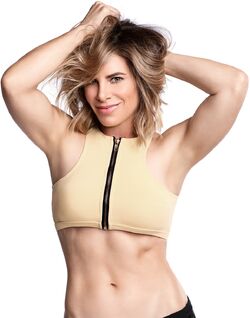 Jillian Michaels (born February 18, 1974) is a personal trainer from Los Angeles, California. She is best known for her appearance as a trainer on The Biggest Loser.
Michaels was overweight in her early teenage years, until her mother enrolled her in a martial arts class. Inspired by her own personal transformation, Michaels dedicated herself to helping the overweight change their lives and bodies for the better.
Michaels combines a blend of strength training techniques, including kickboxing, yoga, Pilates, plyometrics, and weight training, in her workout routines.
The Biggest LoserEdit
Michaels was the Red Team trainer on The Biggest Loser until 2006, when she was replaced by Kim Lyons. She returned to the show in 2007 as the Black Team trainer, competing against Kim Lyons' Red Team and Bob Harper's Blue Team. Lyons decided not to return for the spring 2008 season, leaving Michaels as the only female trainer. Along with Bob Harper, Michaels was also a trainer in the Australian version of the show.
On October 21, 2008, Michaels launched a new video game called Jillian Michaels Fitness Ultimatum 2009 for Nintendo. The sequel, Fitness Ultimatum 2010, launched in 2010.
On October 20, 2009, NBC announced that Michaels will star in a new spin-off entitled Losing it with Jillian. Casting for this show has not yet been completed.